Types of Central Air Conditioners
If you are considering an air conditioner to keep you cool in the summer there are several types to consider.
A split-system unit consists of both indoor and outdoor sections. The indoor heat exchanger, or coil, mounts above the furnace, inside the ducting. The outdoor section consists of the remaining components. Refrigerant lines connecting the indoor coil to the refrigeration components in the outdoor section join the two sections.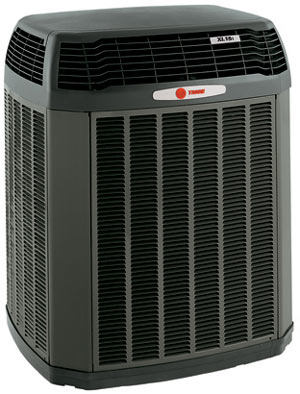 A mini-split unit is similar to a split-system, but may contain more than one indoor coil connected to one outdoor unit. Some mini-split units have multiple indoor units. The indoor section mounts on an inside wall, the ceiling, or the floor. A major advantage of a mini-split system is that it doesn't require ductwork, thus offering a solution for homes heated with radiators, electric baseboards, etc. They use a type of heat pump technology to efficiently cool your home.
Some systems are also designed to operate in reverse, supplying heat during cool weather. With multiple indoor units, a ductless system allows the homeowner to control one room or area exclusive of all others.
A single-packaged unit contains all the components and generally mounts through the wall or on the roof. Ducting to and from the unit conveys air to and from the rooms. This type is not commonly used in residential applications.
Energy Efficiency
Central air conditioners are covered under Canada's federal Energy Efficiency Regulations, which came into effect in 1995. Under the regulations central air conditioners must meet a minimum of 10 SEER. The higher the rating, the more efficient the unit.
There is another rating system that is also sometimes used. The energy efficiency ratio (EER) is a measure of how much cooling effect is provided by the air conditioner for each unit of electrical energy that it consumes. The higher the EER the more efficient the unit.
The life cycle of an air conditioner can be as little as 10 years and as long as 15 years. Owners of HCFC equipment or those contemplating the purchase of new air conditioning equipment should ask a qualified refrigeration and air conditioning contractor to assist them in choosing the proper equipment that meets their needs.
Air conditioners that feature the ENERGY STAR symbol label are among the top energy performers on the market.
Help improve the environment by choosing ENERGY STAR qualified central air conditioners. They use 20% less electricity than conventional units.
Installation
Since sizing and proper installation of a central air conditioning system are critical to energy efficiency and home comfort, it is important to have the installation done by a qualified air conditioning technician. It is also advisable to have your cooling system checked annually by a qualified technician.
Northumberland Heating and Air Conditioning uses Trane for air conditioners but we can use other suppliers or brands on request.