Northumberland Heating and Air Conditioning can install your fireplace and free standing or wood insert stoves. Please note, we do not install custom built stoves or inspect existing wood stoves. Please contact us for more information.
Below is a short description on the different options you can choose from for fireplaces and stoves.
Fireplaces
Zero-Clearance Fireplaces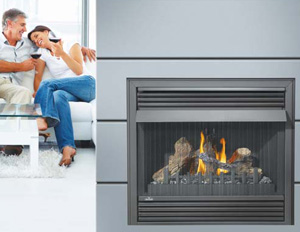 A Zero-Clearance Gas Fireplace is designed to be installed where no masonry/brick fireplace currently exists. They can be backed up to a wall or inserted into an opening cut into the wall and then framed in with standard building materials. The logs and burner are inside their own firebox, around which is an inner and outer shell. A zero-clearance Gas Fireplace is an ideal way to add a fireplace to your construction or remodel plans without the expense of building a masonry fireplace structure.
Direct Vent Fireplaces
A Direct Vent Fireplace is the ideal solution for homes that do not have an existing chimney. A Direct Vent Fireplace is a sealed combustion unit that draws outside air in and exhausts its combustion products outside eliminating the need for a standard chimney system. A Direct Vent Fireplace can be installed virtually anywhere in the house. A glass panel in direct vent units is critical to keeping the combustion system sealed from the home and maintaining indoor air quality.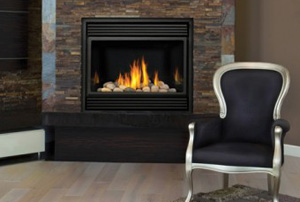 Natural Draft Fireplaces typically use a B-vent or, in an existing chimney, an approved flexible aluminum liner. Venting is required to remove combustion gases from the firebox to the outdoors.
Some Gas Fireplaces feature Power Venting, in which an electrical fan assists the venting process. This allows units to be vented with horizontal and vertical flues from locations in a home where a conventional flue cannot be installed. Note: You can also extend the horizontal run of the vent from typically 20′ for a Direct Vent to 40′ for a Power Vent.
Gas Inserts
Gas Inserts are a convenient and affordable way to convert your existing wood-burning fireplace to natural gas. Inserts fit into your existing fireplace and use your home's existing chimney. Much like any other appliance, it is important to spend the time to choose a fireplace insert that fits your needs and your lifestyle, whether more formal or relaxed.
Gas Log Sets
Gas Logs are primarily decorative open flame-type appliance consisting of a metal frame or base supporting simulated vented logs that sit in an existing masonry fireplace. This option provides less heating capability than a zero-clearance, free-standing stove or gas insert.
Pilot Lights
There are two basic pilot lights available on the market – 'standing pilot' and 'electronic ignition'. Pilot lights, if left to run continuously, can increase your annual energy costs. You will save energy and money by turning off the pilot light when the fireplace is not being used, especially during the summer.
Other fireplaces have what is known as 'electronic ignition',eliminating the need for a continuous pilot. Electronic ignition is available in both battery power and 110 volt. It should be noted that 110-volt systems would render the fireplace inoperative during a power outage.
Stoves
Free Standing Stoves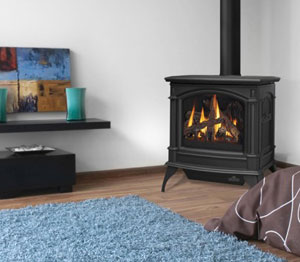 Free-Standing Stoves are an attractive option for homes with or without a chimney, as they come with multiple venting options. They can be installed almost anywhere in your home. Today's gas stoves look like wood stoves and heat like wood stoves. Many sizes, styles and colors are available on the market. They can be placed directly on a wood floor with no added heat protection. If placed directly on carpet or linoleum, floor protection (usually a hearth pad) is needed. A freestanding gas stove is a perfect choice for replacing an old wood stove. Many designs use a 4″ B-Vent or a listed chimney liner.
Wood Insert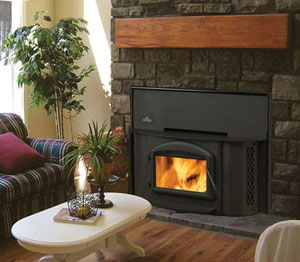 A wood insert slides into your existing fireplace. With a minimum amount of work you can get a clean burning fire that heats more efficiently. Please note we do not do custom build and we don't inspect existing wood stoves. Contact us for more information .
For a full selection of products visit the Napoleon website.
Northumberland Heating and Air Conditioning uses Napoleon fireplaces but we can use other suppliers or brands on request.