While portable air cleaners are pretty effective for individual rooms, electronic air cleaners are good for the whole home. The cleaner is installed in your central heating and cooling system and cleans the air going through your ductwork.
The air cleaner operates whenever your furnace/air conditioning system fan operates. They can also be set with the thermostat fan switch to run continuously.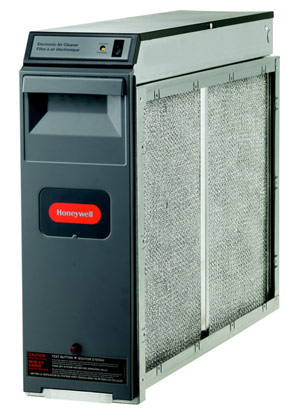 Some of the other advantages to having an electronic air cleaner are:
Eco-Friendly because the filter does not need to be replaced every month
Easy to maintain, just wash the filter cell every 6-12 months
Highly effective,  collecting  up to 99% of airborne particles as they pass through
Extends the service life of heating and cooling equipment by keeping it clean
No replacement filters ever need to be bought
Northumberland Heating and Air Conditioning uses Honeywell for their electronic air cleaners but we can use other suppliers or brands on request.
Information used was from the Honeywell website.