Ductless heat pumps are highly-efficient systems that keep you warm in the cooler months and cool in the hotter months. They also filter the air while keeping you comfortable.
Ductless systems have two main components,  an outdoor unit and one or more indoor units. Since they don't require ducting or extra space for a furnace they are great for small homes, cottages, and places without existing ductwork.

Going ductless is the perfect upgrade to inefficient baseboard heaters and noisy,
view-obstructing window air conditioners.
Integrated with Inverter Technology
Inverter technology can be compared to the technology in a car: it slows down or speeds up as needed. An inverter unit will adjust the compressor speed based on the capacity required to maintain desired room temperature. Traditional systems without inverter technology can be compared to turning on or off a lamp. The compressor either runs at full capacity or is off.


Advantages of the inverter technology
Quicker to reach the desired room temperature.
Reduced noise.
Minimizes temperature fluctuations.
Reduces energy consumption by 30% (compared to normal on/off units)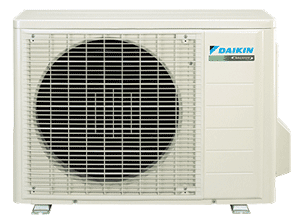 Northumberland Heating and Air Conditioning uses Daikin ductless heat pumps but we can use other suppliers or brands on request.
Some information used was from the Daikin Ductless Heating and Cooling brochure .